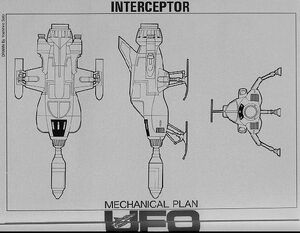 The SHADO Interceptor formed the first line of defense against alien attack.
Profile
Operating in flights of three launched from the SHADO Moonbase, the interceptors are directed towards incoming UFOs, which they attempt to destroy using the large missile fired from the nose.
Spec
Maximum speed: Initially SOL 0.78 (78% of the speed of light); later increased to speeds in excess of SOL 1.127 (1.127 times the speed of light), before 1983, when a B142 deep space probe followed a UFO back to its homeworld.
History
The type was eventually replaced in service by the more effective and flexible Mk 9 Hawk
References
↑ UFO Series Website