Destruction
Episode A-09
Production Info
Director
Ken Turner
Story by
Screenplay by
Dennis Spooner
Producer
Music
Cinematography
Editor
Production Code
#20
Previous Episode Produced
The Cat with Ten Lives
Next Episode Produced
The Man Who Came Back
Transmission Info
Season
1
Episode
9
Airdate
2 December 1970
Previous Episode
Sub-Smash
Next Episode
The Square Triangle
Aliens attempt to destroy a naval ship dumping toxic waste into the ocean but their craft is shot down. Straker is surprised to read the news of the incident as it was not a SHADO operation, and goes to see Admiral Sheringham at the Admiralty. Sheringham is not co-operative and Straker suspects a cover-up. He sends Foster to see if he can get more information from Sarah, the Admiral's secretary.[2]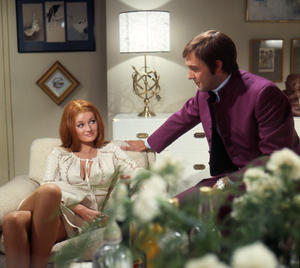 "Whatever you're doing, the Aliens know about it - make no mistake. And if they're interested, so am I."
Filming Schedule
Edit
Thursday, June 4th - Tuesday, June 16th, 1970
On Location
Edit
Burnham Beeches, Burnham, Buckinghamshire
Neptune House, BBC Elstree Studios, Eldon Avenue, Borehamwood, Hertfordshire
Horseguards Parade and Horseguards Avenue, London SW1
Admiralty House, Whitehall, London SW1
Trafalgar Square, London SW1
Henderson
Masters
Johnson
Additional
Edit
References
Edit